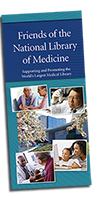 How You Can Help the Library Extend Medical Knowledge
You can be a part of the Friends' mission to help educate the health, corporate, and public communities about NIH's many vital research initiatives. If you or your company can help to support and expand the Library's efforts by providing sponsorship and other charitable donations for NIH MedlinePlus magazine's publication and distribution, many more thousands of Americans will gain valuable, free access to the world's best online medical library, www.medlineplus.gov.
Learn more about membership or call (202) 679-9930. Written correspondence may be sent to FNLM, 4720 Montgomery Ave. Suite 500 Bethesda, MD 20814.
Best Practices of Biomedical Research: Improving Reproducibility and Transparency of Preclinical Research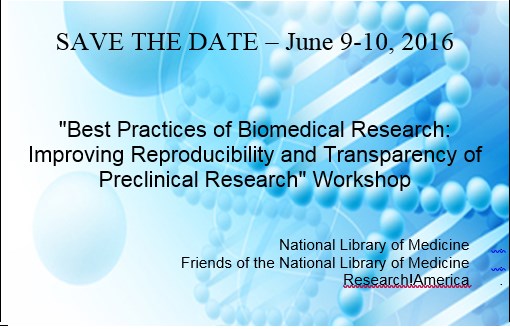 Join the discussion about challenges with non-reproducible research; highlight positive strategies to achieve significant quality improvement in preclinical research studies. The workshop will generate constructive and practical messages to benefit producers as well as users of biomedical research discoveries.

Bethesda Marriott
5151 Pooks Hill Road
Bethesda, Maryland 20814 USA

Speakers Include
Robert Califf, MD, Commissioner, U.S. Food and Drug Administration
John Ioannidis, MD, Professor of Medicine and Health Research and Policy, Stanford University
Christopher Austin, MD, Director, National Center for Advancing Translational Sciences
Atul Butte, MD, PhD, Director, Institute for Computational Health Sciences, University of California, San Francisco
Glen P. Campbell, Chairman, FNLM and Managing Director, BMJ, North America
Arturo Casadevall, MD, PhD, Bloomberg Distinguished Professor, Molecular Microbiology & Immunology, Johns Hopkins Bloomberg School of Public Health
Ulrich Dirnagl, MD, Professor, University of Medicine, Berlin
Ferric C. Fang, MD, Professor, University of Washington
Lee Ellis, MD, Professor in Surgical Oncology, University of Texas MD Anderson Cancer Center
Leonard P. Freedman, PhD, President, GBSI
Nicole Baute Honoreé, RTTP, Assistant Vice Chancellor for Economic Development & Strategy Initiatives, Louisiana State University, AUTM Board Member
Betsy L. Humphreys, MLS, Acting Director, NLM
Elizabeth Iorns, PhD, Founder, Science Exchange
Mark D. Lindner, PhD, Scientific Review Officer, Center for Scientific Review, National Institutes of Health
Jon R. Lorsch, PhD, Director, National Institute of General Medical Sciences, NIH
Ivan Oransky, MD, Co-Founder, RetractionWatch
Hunter R. Rawlings III, PhD, President, Association of American Universities
Lorenzo Refolo, PhD, National Institute on Aging, NIH
Steven Roberds, PhD, Chief Scientific Officer, Tuberous Sclerosis Alliance
Eric Rubin, MD, Vice President, Global Clinical Oncology, Merck Research Laboratories
Tara Schwetz, PhD, Special Assistant to the Principal Deputy Director, NIH
Michaela Torkar, PhD, Editorial Director, F1000Research
Stan Young, PhD, CEO, Omicsoft Corporation

Online pre-registration for 2016 Best Practices of Biomedical Research: is closed.